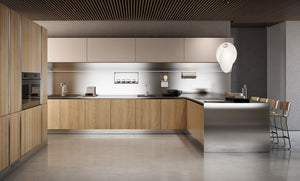 Gamma | Arclinia Custom Kitchen
Gamma is the kitchen dedicated to the new market, to a new world that seeks accessible personal luxury, for everyday use but always extraordinary. Gamma is a 'kitchen concept' that provides simple, flexible, clear answers to real design needs with a huge selection of finishes and almost unlimited potential combinations. Gamma was created in 2013 as the evolution of Gamma 30, the successful, historic Arclinea product from 1970. Today it is a complete range, reaching right across the board to mix and match with all the products in the collection and integrate all their aspects of substance, design and architecture.
Gamma Inquiry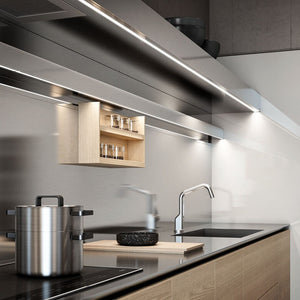 STAINLESS STEEL
Hygienic, functional, coordinated elements in stainless steel: 6 mm worktop, with induction hob and accessorised back panel with Mensolinea Shelf and 14 cm tall Shelf hood.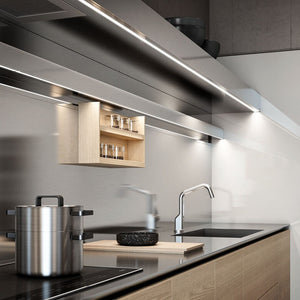 ACCESSORISED BACK PANEL
Exclusive elements from the Collection: Mensolinea Shelf with profile for hanging accessories and utensils and the 14 cm tall Shelf hood. The latter is 45 cm deep and can be made to measure up to 410 cm in length, and it comes complete with hood, 3000 K LED lighting system and electrical sockets.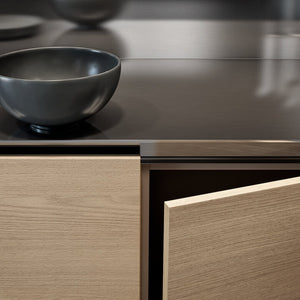 HANDLE-FREE DOOR
The distinguishing feature of Gamma is its door with grooved handle that allows for infinite combinations in terms of door/structure/worktop, materials and finishes.
GAMMA LINEAR LAYOUT | 1. Fridge 2. Food Preparation 3. Sink 4. Cooktop 5. Oven 6. Waste Bin 7. Dishwasher 8. Tall units
A kitchen where focus is on the central work area with induction hob and integrated sink: minimal and functional in its linearity, yet warm and welcoming. Horizontal grain NTF natural oak wood characterises the doors on the base units and links to the area for socialising with its bench table having a slatted top in natural oak and Olimpia chairs with steel structure and seat and back again in natural oak. All steel for the 6 mm thick worktop and accessorised back panel with Mensolinea Shelf and sliding accessories in wood and ceramic, 14 cm tall Shelf hood, complete with hood, electrical sockets and built-in 3000 K LED lighting system. Glossy white lacquered finish for the storage area to the left, with WIC (Walk in Closet), ovens and tall unit for fridge.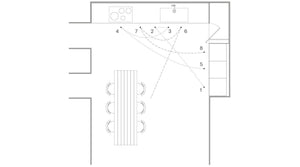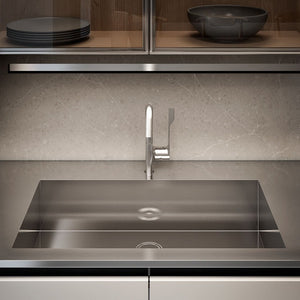 WASHING AREA
Generous and handy, the undertop stainless steel sink built into the matte Mercury quartz worktop with matching back panel.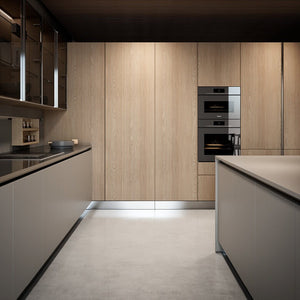 FUNCTIONAL CONVIVIALITY
Everything within reach and in view, glass wall units and functional wall dialogue with the work area and the socialising peninsula.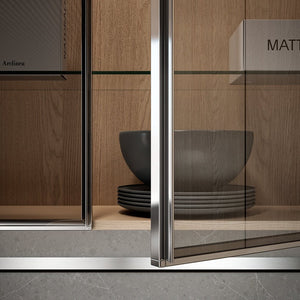 GLASS WALL UNITS
Detail of the wall units with door in wired Stopsol glass, with frame, vertical handle, linings in wood, and built-in 3000 k LED light.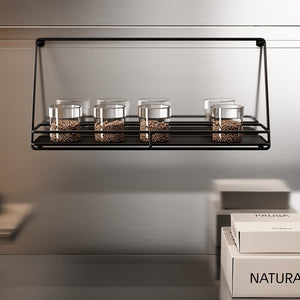 WIRE ACCESSORIES
On the Mensolinea Shelf utensil rail, one of the accessories from the range in matte black wire.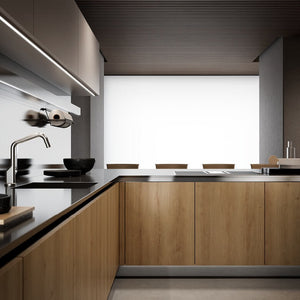 LIGHTING
Between base and wall unit, the 3000 K LED lighting system that runs the entire length of the work area.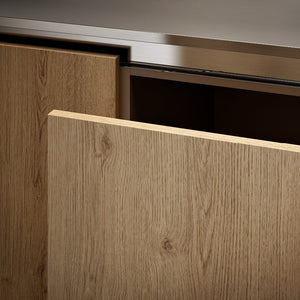 WORKTOPS AND BASE UNITS
2 cm thick worktop and grooved handle, in stainless steel. The handle-free door makes for an easy grip when opening.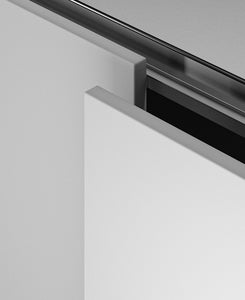 Lacquer available in 34 colours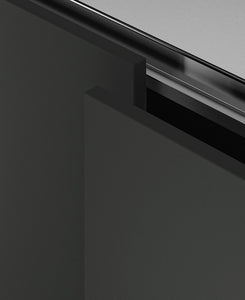 Laminate available in 4 colours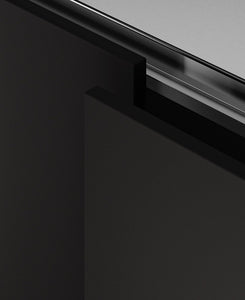 Fenix NTM® available in 8 colours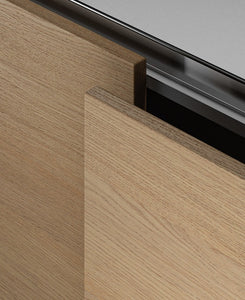 Melamine available in 14 colours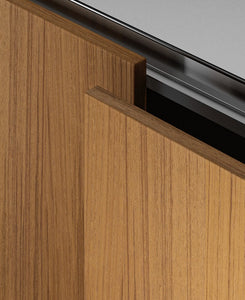 Vertical grain wood available in 7 colours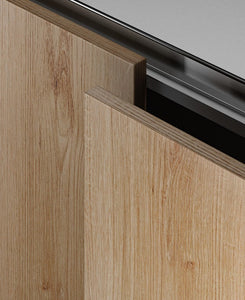 Horizontal grain wood available in 7 colours