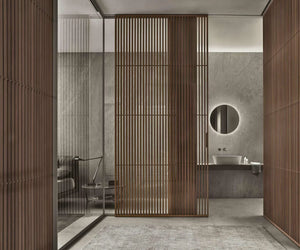 Featured Brand
Rimadesio
Rimadesio produces systems for sub-dividing environments and for the architectural definition of interiors.
Doors, sliding panels, shelving units, walk-in wardrobes and a collection of complementary furniture: an offer which is continuously increasing in size and which is constantly developing in its style. Linear and functional designs where the simplicity of a concept is elaborated through an exceptional level of technical competence.
Rimadesio's aim is to continue to develop its own design culture and productive technology in order to be able to offer functionally innovative ideas which are exclusive from an aesthetic point of view and can ensure maximum reliability over time.
Rimadesio Doors
The versatility of the collection is underlined by the wide range of aluminium, glass and wood finishes, which can be combined with one another.
Rifugio Custom Closet
Rifugio Custom offers Bespoke design at the highest levels.  With over 20 years of history and experience, there's not much that we cannot provide.  We offer a large range of finish and build levels and so are able to accommodate everything from high-end residential construction to multi-unit residential and commercial.
Explore All Custom Closets
Rifugio Modern
From our long history of kitchen and casework design, we have grown into an Italian-focused, multi-brand studio. Our team curates a diverse product offering, ranging from some of the most iconic and traditional objects to the latest design innovations. In our showrooms, kitchens and closets can be experienced alongside furnishings and lighting, offering comprehensive presentations and experiences to our clientele.
Our approach is as straightforward as our values. From our pallet of rigorously selected furniture and casework, we propose comprehensive design solutions that help our customers to build successful projects, residential and commercial. We support those projects from conception thru completion.
Our Brand offerings can be modern, contemporary, minimal, traditional, eclectic, or transitional. Through those, we offer many paths forward, because we believe that every project has a unique character, inspiring us to always propose rather than push and ask rather than know. We are here to help you.
Explore Our Brands