Uniqueness, comfort and elegance |
Rigour, method, cultural simplicity together with the continuous and intelligent strive for updating have always characterized the creativity of MDF Italia and its successful collection.
The rationality of constructivism for the exterior
Garda Collection
The GARDA collection, designed by Joan Gaspar for BIVAQ, is inspired by the great icons of constructivist and rationalist architecture. A concept based on the chairs and armchairs of the 50s with surnames such as Le Corbusier, Vestergard Jensen, Gio Ponti or Olli Borg, transferred by Gaspar to outdoor furniture. Its functional and apparently simple lines create a collection designed above all to be lived in, following in the footsteps of those great names that conceived housing to impact the lives of its inhabitants.
Colors, textures and materials emerge from nature
Teja Collection
The TEJA collection, designed by La Mamba Studio for BIVAQ, was born from the observation of the different textures of the landscape and the traditional constructions of the Mediterranean. The characteristic overlapping of the roofs of the buildings, the roughness of the stone walls, the honesty of the terraces and the warmth of the fabrics inspire this collection full of comfort and seclusion.Wood, rope and metal are materials usually present in these spaces and have been used coherently to shape this collection.
TEJA is a cozy concept, with a high structure finished in rope that embraces whoever sits down.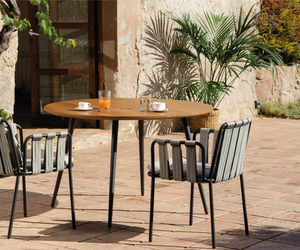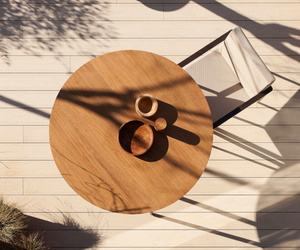 Contemporary minimalism inspired by European design
Vint Collection
The VINT collection, designed by Andrés Bluth for BIVAQ, was born from the desire to bring the elegance and sobriety of indoor furniture design to the outdoors. VINT takes as a reference the European design of the 50s and 60s. The balance between aesthetics, functionality and the search for new lines characterize the designs of those decades, full of lines and geometric shapes.
These formal references inspire VINT, a collection that combines rectangular and circular sections, tapered tubes and a formal language adopted from aluminum's world. The result is a light, neo-retro and minimalist concept. 
Reinterpreting a classic
Illa Collect
The ILLA collection, designed by Andrés Bluth for BIVAQ, review the classic garden designs based on metal rods. Wrought and cast iron became popular during the 19th century as the production of this material increased, becoming especially popular for the creation of urban and garden furniture thanks to its strength and durability.
ILLA inherits the essence of this movement, but brings it to the present through round tubes and rods of soft and fluid shapes. Its enveloping structures and warm fabrics bringing comfort and counteract the harshness of the original garden designs.
ILLA is available in a wide color palette, from earth tones to bright pastel shade, evolving from a sophisticated and sober proposal to a provocative collection.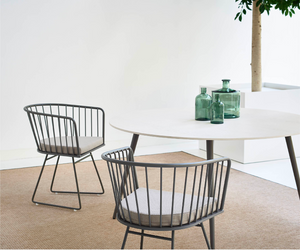 Collection
Featured collection
Add a subheading to provide more details about this collection.
Shop now