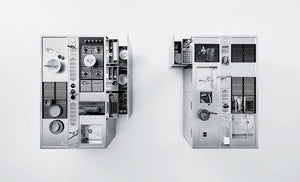 Rifugio Custom Kitchen
Rifugio Custom offers Bespoke design at the highest levels. With over 20 years of history and experience, there's not much that we cannot provide. We offer an extensive range of finish and build levels and so are able to accommodate everything from high-end residential construction to multi-unit residential and commercial.

Rifugio Kitchen, exclusively provided by Rifugio Custom, offers modern, bespoke kitchens solutions like no other. Rifugio Kitchens cabinetry is available in naturals woods, lacquers, synthetic woods, and Laminates (FENIX), and our team can source any custom finish solution required. In addition, Rifugio kitchens are beautifully accessorized, including hundreds of solutions for countertops, inserts, shelving, and lighting, all manufactured by our exclusive partners in Italy.

Whether you're looking for custom cabinetry, closets, kitchens, doors, or furniture – ask us, partner with us, and we will take care of the rest.
Innovative Materials
Italian engineering and material innovation has assured our kitchens always embody the steady progression of materials and finishes for which the Italians are famous. This means that every Rifugio Modern kitchen will be a unique expression of your vision, be it built of wood, glass, metal, laminate, or some bespoke combination.

Endless Customization
There are many unique ways to build a kitchen. Rifugio Modern leverages our Italian Craftsmens' collective 175 years of knowledge to create truly bespoke solutions for your kitchen. Our finishes, accessories, and lighting options will combine seamlessly to create the kitchen of your dreams in any configuration or space.

Attention to Detail
When it comes to building your dream kitchen, Italian craftsmanship means one thing more than any other; attention to every detail, no matter how small. Detail is our obsession. We have built our reputation on our kitchens' flawless execution and detailing. Every build we endeavor, large or small, is designed to support that commitment.