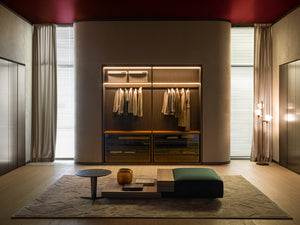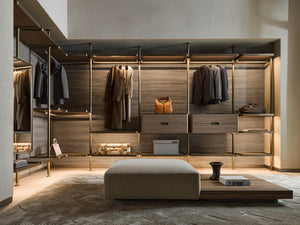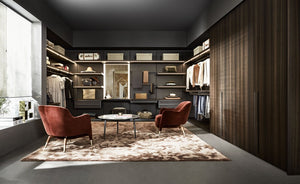 VAN DUYSEN, THE DESIGNER OF THIS DRESSING ROOM SYSTEM, HAS ALWAYS CREATED INNOVATIVE OBJECTS FOR MOLTENI AND HIS RESEARCH CONTINUES WITH THE AMBITIOUS MOLTENI GLISS WALK-IN PROJECT.
Molteni Inquiry
Hecktor Night
Conceived as a perfectly modelled wall system that is also easy to modify and transform, Hector Night is a protagonist of contemporary furniture as an extraordinary expression of the brand's research in the field of systems.
Gliss Master
Gliss Master, in the sophisticated version without doors, becomes an accessorised walk-in closet that can be set up in linear and corner solutions.A particularly wide selection of internal accessories is available to design the compartments with personalised solutions to meet specific needs: hanging drawer units, extractable trays, shoe shelves, storage compartments and accessorised drawers with dividers are some of the solutions suggested.
Master dressing
Following the success of Gliss Master, Vincent Van Duysen has designed Master Dressing, a walk-in wardrobe system that completes the wide range of nightime systems offered by Molteni&C. Master Dressing perfectly complements the Gliss Master wardrobes thanks to the use of coordinated internal fittings and aesthetic finishes, thereby providing functional and impactful walk-in closets.
dwell
Dwell is a system of sliding doors and partitions designed to close the Gliss Walk-In closets.The system can be used in the ceiling, wall (side), and recessed (false ceiling).