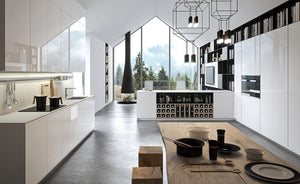 Rifugio Custom Kitchen
Rifugio Custom offers Bespoke design at the highest levels.  With over 20 years of history and experience, there's not much that we cannot provide.  We offer a large range of finish and build levels and so are able to accommodate everything from high-end residential construction to multi-unit residential and commercial.
Rifugio has numerous production partners both in Italy and in the U.S.  We leverage their materials and designs and build upon those, to build exactly what you need.  Whether you're looking for custom cabinetry, closets, doors or furniture – simply ask us, partner with us, and we will take care of the rest.
Rifugio Custom Inquiry