For over 30 years Italian lighting manufacturer Prandina have developed a very distinct decorative style which continues to be renewed with the introduction of innovative technologies and fresh new approaches to the use of light
Founded in 1982 by artist and industrial designer Sergio Prandina, the company transmits an innate artistic creativity in the lighting design field. Their creative philosophy focuses on simplicity, formal precision, functionality and lasting quality. Specialising in the traditional art form of blowing glass, each glass product is a masterpiece in its own right, manufactured by hand with attention to every detail.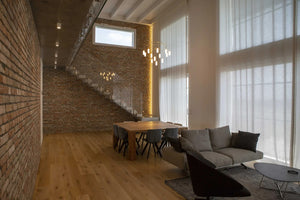 A LIGHTING STORY
Prandina's manifesto 'Lighting Stories' focuses on the idea that when a Prandina product is purchased, it is a purchase made for life. Withstanding the test of time through quality manufacturing and beautiful non-trend specific designs, customers own a Prandina product for the rest of its life, home after home, style after style, emotion after emotion. Prandina products are designed with longevity in mind, for a long life experience, evergreen products with the idea of a modern heritage style.
TIMELESS
We wanna live with the passion for timeless quality. 
Quality, intended as a product that courageously embraces innovative manufacture processes and has always been granting the finest aesthetical level together with production and execution of the highest possible quality.
Quality, intended as service and where customers' demands give continuous inputs to company's strategic choices. Such situations generate a passage, where the simple sale of a product becomes a sale of values of a company that bases its main core on services and people.
Quality, intended as projects, where experience and know-how are improved and developed out of their productive comfort zone, looking for solutions that are always up to date and taking advantage of the flexibility of production to meet the specific needs of specialists.