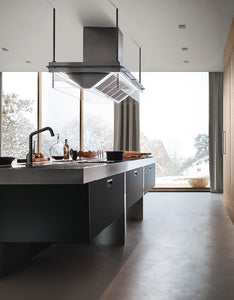 Lignum et lapis | Arclinia Custom Kitchen
The main players of Lignum et Lapis are stone and wood: materials used exclusively for design and project creativity. Formal study and technologies have allowed the production of islands, worktops and workbenches in stone: true physical industrial sculptures. The unusual door enhances the fineness of natural wood with its exclusive stave design in variable widths and distances. It is available in various finishes: larch, mahogany, Nordic Oak and in all the lacquer colours from the Collection.
Lignum et lapis Inquiry
LIGNUM ET LAPIS | MODUS DOORS SYSTEM
Cooking and sharing the experience with your guests. This is the idea behind the project that puts Lignum et Lapis centre-stage with its sculpture-island in stone or steel. Here in steel with Italia laminate doors, conceived as a separate room, functional and yet perfect for socialising: while you cook on the side where the equipment is, your guests can watch from the other side, sharing preparation and the taste of good food. This socialising zone integrates with the area housing the sinks, pantry, and tall units for refrigerator and ovens, surrounded by the wood panelling on the walls and matching Modus horizontal folding doors. On the opposite side, Vina refrigerated wine unit completes the design idea and the experiential mood of this room.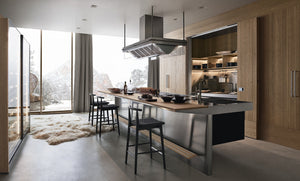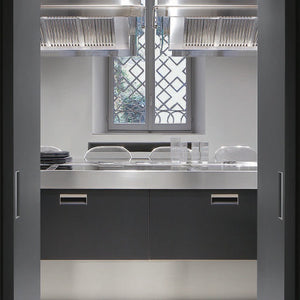 DETAIL OF ARTUSI HOODS
Detail of work area | Italia door in black Fenix NTM® | Stainless steel structure | New Artusi Professional double hood
INTERNAL DRAWERS
Deep drawers with internal drawers with black bottoms | Sides and fronts and new accessories | 12 cm thick top in stainless steel with 12 mm recess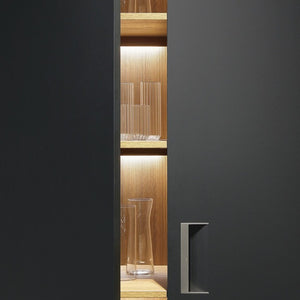 INTERNAL LIGHTING
Tall units with door in black Fenix NTM® and Italia integrated handle | Internal teak finish and diffused indirect LED lighting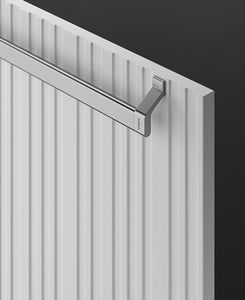 Matt lacquer with vertical staves available in 36 colours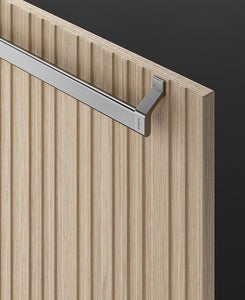 Wood in vertical staves available in nordic oak